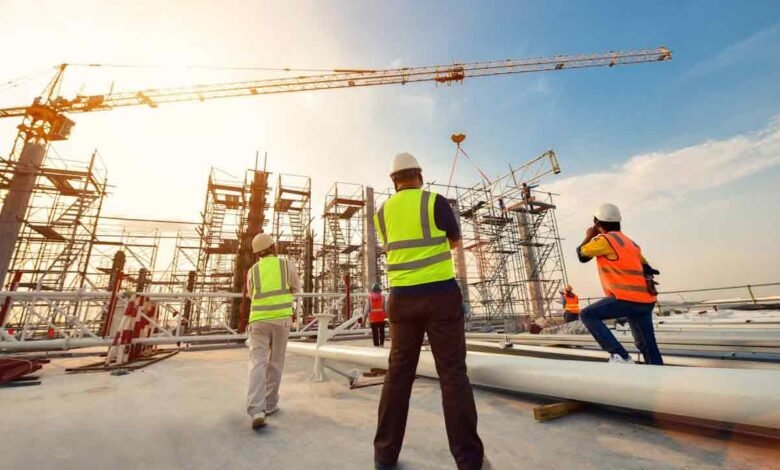 1. Introduction to High Rise Construction Challenges
High rise construction projects present a unique set of challenges that require careful planning, execution, and coordination. From structural design complexities to logistical constraints, safety concerns, and the need for seamless communication among stakeholders, the hurdles can be immense. This article aims to explore the common challenges faced in high rise construction and provide insights into how these obstacles can be overcome. By understanding and addressing these challenges proactively, construction professionals can ensure the successful completion of high rise projects while maximizing efficiency, safety, and sustainability.
1. Introduction to High Rise Construction Challenges
Understanding the Unique Complexity of High Rise Construction
Building a high rise is no walk in the park. It's more like navigating a treacherous obstacle course, with each hurdle higher than the last. High rise construction poses a unique set of challenges due to its sheer size, complex structural design, and logistical demands. From designing towering skyscrapers that can withstand extreme winds to managing the transportation of materials and workers up and down dizzying heights, high rise construction requires careful planning and execution.
Importance of Identifying and Addressing Challenges Early
In the world of high rise construction, the saying "an ounce of prevention is worth a pound of cure" couldn't be more true. Identifying and addressing challenges early on is crucial for the success of any project. Delayed problem-solving can lead to costly rework, extended construction schedules, and even compromise the safety of workers and occupants. By proactively tackling the challenges that come with high rise construction, contractors and project teams can save time, money, and headaches down the line.
2. Structural Design and Engineering Complexity
Designing for Vertical Loads and Wind Loads
When it comes to high rise construction, gravity and Mother Nature are the ultimate testmasters. Designing a structure that can support the massive vertical loads and withstand the forces of wind is no small feat. Engineers need to carefully consider the material selection, column and beam placements, and overall structural systems to ensure the building can bear the weight and resist lateral loads.
Implementing Robust Structural Systems
In high rise construction, structural systems are like the building's invisible backbone. The choice of structural system, such as steel or reinforced concrete, can greatly influence the building's stability, durability, and overall performance. It's essential to implement robust structural systems that can withstand the test of time and changing environmental conditions.
Addressing Foundation and Soil Constraints
A strong foundation is the key to any successful high rise project. However, not all soils are created equal, and some may pose significant challenges. Issues such as soil settlement, liquefaction, or poor load-bearing capacity can jeopardize the stability of the structure. Engineers must assess the soil conditions and implement appropriate foundation designs, such as deep piles or caissons, to ensure the building stands on solid ground.
3. Vertical Transportation and Logistics
Efficient Planning of Material Movement and Equipment Placement
In high rise construction, "going up" takes on a whole new meaning. Efficient planning of material movement and equipment placement is essential to streamline construction processes. Determining the optimal location for material storage and coordinating the delivery of materials at different stages of construction can minimize delays and ensure smooth operations.
Managing Vertical Transportation for Workers and Occupants
Getting people up and down a high rise safely and efficiently is no small task. Whether it's workers during construction or occupants after completion, careful management of vertical transportation is crucial. Proper allocation and utilization of hoists, elevators, and stairwells can prevent bottlenecks and provide convenient access while maintaining a high level of safety.
Overcoming Challenges in Crane Operations and Assembly
Cranes play a pivotal role in high rise construction, but their operations can be complex and demanding. Assembling cranes within the limited space of a construction site and ensuring their safe and efficient functioning require meticulous planning. Factors such as wind constraints, load capacities, and operator expertise must be considered to overcome the challenges of crane operations.
4. Safety and Risk Management
Ensuring Comprehensive Safety Protocols and Standards
Safety should always be a top priority in any construction project, but in high rise construction, it takes on heightened importance. Implementing comprehensive safety protocols and adhering to stringent industry standards is vital to protect the lives of workers and future occupants. Regular safety audits, proper training programs, and the use of personal protective equipment are some measures that can help minimize risks.
Managing Risks Associated with Working at Heights
Working at dizzying heights introduces additional risks and hazards. Fall protection systems, scaffolding, and guardrails are essential for protecting workers from potential accidents. Regular inspections and maintenance of these safety measures are crucial to ensure their effectiveness throughout the construction process.
Fire Safety and Emergency Response Planning
High rise buildings present unique challenges in terms of fire safety and emergency response. Adequate fire protection systems, including sprinklers, fire alarms, and emergency exits, must be in place to mitigate the risks. Additionally, developing comprehensive emergency response plans and conducting regular drills can help ensure a swift and organized response in the event of a fire or other emergencies.
5. Coordination and Communication among Stakeholders
Establishing Effective Collaboration among Project Team Members
Building a high-rise structure involves numerous stakeholders, from architects and engineers to construction workers and suppliers. With so many moving parts, effective collaboration becomes crucial. One way to foster teamwork is by establishing clear channels of communication. Regular meetings and project updates ensure everyone is on the same page and can address any concerns promptly. Additionally, creating a culture of open communication where ideas and feedback are welcomed helps to optimize decision-making and problem-solving.
Overcoming Challenges in Multidisciplinary Coordination
High-rise construction requires close coordination among various disciplines, including structural, mechanical, electrical, and plumbing. This can be challenging due to the complexity of integrating different systems and ensuring they work harmoniously. One approach to overcoming this challenge is by implementing Building Information Modeling (BIM). BIM allows stakeholders to visualize the entire project in a digitally simulated environment, identifying and resolving clashes or conflicts before construction begins.
Streamlining Communication and Information Sharing
In a fast-paced construction environment, delays in communication can have significant consequences. Streamlining communication processes through technology can help overcome this challenge. Tools like project management software, mobile apps, and cloud-based collaboration platforms facilitate real-time sharing of information and enable stakeholders to access important project data from anywhere. By ensuring efficient communication, the risk of miscommunication and errors can be minimized, promoting smoother project execution.
6. Building Information Modeling (BIM) and Construction Technology
Utilizing BIM for Enhanced Project Planning and Visualization
Building Information Modeling (BIM) revolutionizes the way high-rise construction projects are planned and executed. BIM allows for the creation of a virtual model that encompasses all project components, including architectural, structural, and building system details. This enables stakeholders to visualize the project in a comprehensive and realistic manner, reducing design errors and facilitating effective project planning.
Implementing Prefabrication and Modular Construction
Prefabrication and modular construction techniques offer immense benefits in high-rise construction. By manufacturing components off-site, construction time can be significantly reduced, leading to faster project completion. Additionally, prefabrication allows for greater precision and quality control, resulting in improved efficiency and cost savings. Incorporating these methods reduces on-site labor requirements and minimizes disruption in densely populated urban areas.
Leveraging Robotics and Automation for Increased Efficiency
Advancements in robotics and automation are transforming the high-rise construction industry. Robots can be deployed for tasks such as bricklaying, concrete pouring, and material handling, improving accuracy, speed, and safety. Automation technologies, such as 3D printing and robotic exoskeletons, offer new possibilities for enhanced productivity and worker well-being. By embracing these technologies, high-rise construction can be expedited and made more efficient.
7. Environmental Considerations and Sustainability
Addressing Energy Efficiency and Green Building Standards
In today's environmentally conscious world, high-rise construction must adhere to energy efficiency and green building standards. Implementing energy-efficient systems, such as HVAC and lighting, can help reduce energy consumption and costs. Additionally, incorporating renewable energy sources, such as solar panels and wind turbines, can further enhance sustainability. By designing and constructing high-rises with green principles in mind, we contribute to a healthier environment and minimize long-term operational expenses.
Waste Management and Recycling in High Rise Construction
Waste management and recycling play a significant role in sustainable high-rise construction. An effective waste management plan ensures that construction debris is properly sorted, recycled, or disposed of. Materials with a potential for reuse, such as steel and concrete, can be salvaged and recycled, reducing the demand for virgin materials. By implementing responsible waste management practices, high-rise projects can minimize their environmental impact and contribute to a circular economy.
Minimizing Environmental Footprint during Construction
Reducing the environmental footprint during construction involves various strategies. Construction sites can implement erosion control measures, such as sediment barriers and stormwater management systems, to prevent soil erosion and water pollution. Additionally, implementing efficient construction practices, like optimizing material usage and reducing vehicle emissions, helps minimize the carbon footprint. By minimizing environmental impact during construction, high-rise projects can promote sustainability and be more socially responsible.
8. Conclusion and Best Practices for Overcoming High Rise Construction Challenges
Constructing high-rise buildings presents unique challenges that require careful planning, collaboration, and the use of innovative technology. By establishing effective communication and collaboration among stakeholders, leveraging Building Information Modeling (BIM) and construction technology, considering environmental factors, and implementing sustainable practices, these challenges can be overcome.
To ensure successful high-rise construction projects, it is essential to prioritize coordination, embrace new technologies, and adopt sustainable practices. By doing so, we can build impressive structures that not only meet the demands of urban growth but also contribute to a more sustainable and resilient future. So, let's rise to the challenge and reach new heights in construction excellence!
8. Conclusion and Best Practices for Overcoming High Rise Construction Challenges
In conclusion, high rise construction projects demand meticulous attention to detail and effective problem-solving strategies to overcome the challenges they present. By recognizing the unique complexities of structural design, addressing logistical issues, prioritizing safety and risk management, fostering communication among stakeholders, embracing construction technology, and considering environmental sustainability, project teams can navigate these challenges successfully. Implementing best practices and lessons learned from past experiences will undoubtedly contribute to the efficient and successful construction of high rise buildings. With a holistic approach and a commitment to overcoming obstacles, the industry can continue to push the boundaries of architectural achievements in the realm of high rise construction.
FAQ
1. What are some of the key challenges in high rise construction?
Some key challenges in high rise construction include structural design complexity, vertical transportation and logistics, safety and risk management, coordination among stakeholders, construction technology integration, and environmental considerations.
2. How can project teams address safety concerns in high rise construction?
Project teams can address safety concerns in high rise construction by implementing comprehensive safety protocols and standards, conducting regular safety training for workers, utilizing proper personal protective equipment, conducting thorough risk assessments, and establishing effective emergency response plans.
3. How can coordination and communication among stakeholders be improved in high rise construction?
Coordination and communication among stakeholders can be improved in high rise construction by establishing clear lines of communication, utilizing collaborative project management tools, conducting regular meetings and site visits, fostering a culture of open and effective communication, and promoting teamwork and collaboration among all parties involved.
4. What role does technology play in addressing high rise construction challenges?
Technology plays a crucial role in addressing high rise construction challenges. Building Information Modeling (BIM) enables improved project planning and visualization, while construction technology such as robotics and automation enhances efficiency. Additionally, advanced software and digital tools streamline communication, coordination, and data management among stakeholders, contributing to successful project execution.
Follow on Telegram https://t.me/civilworks