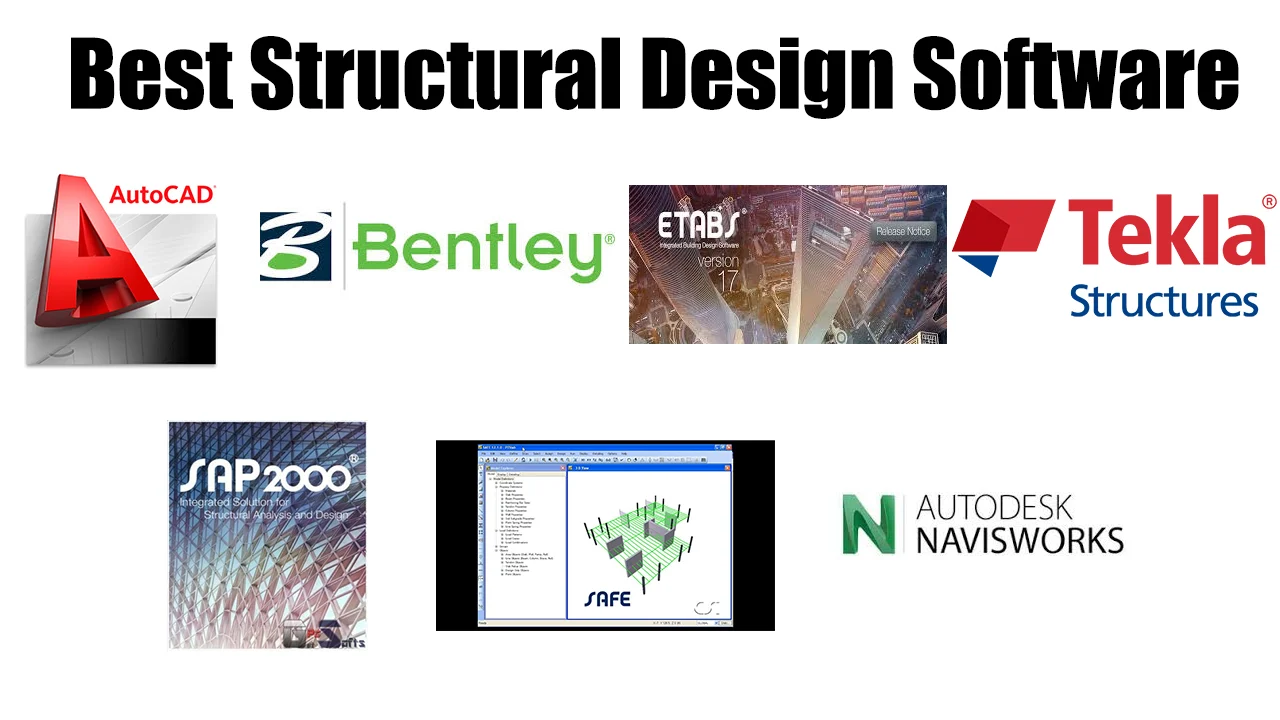 Top Best Structural Design Software In Civil Engineering
In Civil Engineering Structural Design lot of design software's used in structural design.In generally most of the best Structural design software are premium software's all are used in building structural design.
Here we listed out some most best structural design software in civil engineering it helpful to analysis the structural design on the various structure.
The following most wanted best structural design software listed out given below :
1.Autodesk Autocad
2.Bentley Staad Pro
3.Etabs
4.SAP 2000
5.SAFE
6.Tekla
7.RISA
8.Navisworks
Detailed about Software design briefly explained below:
1.Autodesk AutoCAD
Autodesk Autocad powerful application used in civil engineering structural design its help to productivity in both 2d and 3d design.Download free of educational purpose to analysis.
Buying Autodesk software
Offical Website https://www.autodesk.com/
Contact for sale 1-844-842-1674
2.Bentley Staad Pro
Bentley Stadd Pro best perform structural analysis software which including advance design on building,plants and also other structure.It used to reduce the effort and design protectivity. Staad Pro software easy to design and analyze simple or complex structure with wide type of all condition with include like live load and dead load and also combination with loads like wind and seismic condition.
More Features
Design to International Standards
Design beams,columns and wall
Design and analyze with finite elements
Integrate slab and foundation design.
Produce structural design documentation
Official website https://www.bentley.com/
3.Etabs
Etabs is the three dimensional structural software for analysis the building design structure.In Generally ETABS used for analysis of concrete shear wall and concrete moment frame.We can get output in the spreadsheet.The Etabs unlimited integrated software for design of building and structural analysis.
Official website https://www.csiamerica.com/
4.SAP 2000
SAP 2000 is a general used for analysis and design the transporation ,industrial,public works and other structre.SAP 2000 produced by the Computer and Structures Incorporated(CSI) and earthquake engineering company.
Official website https://www.csiamerica.com/
5.SAFE
SAFE software easy to use program for structural designers providing the necessary for modelling,analysis and detailing of concrete slab system and foundation.
Official website https://www.safe.com/
6.Tekla
Tekla Structure software used in construction industry for concrete detailing precast and cast in site to use to create and manage steel or concrete and guide of process to fabrication.Tekla Structure in 3d Building Information Modeling (BIM) software.
Official website https://www.tekla.com/
7.RISA
RISA 3D is qick solver enables you to design steel,aluminum,concrete, steel structure and masonry.Mostly design in building,culverts,dam, and briges.
Official website https://risa.com/
8.Navisworks
Naviswork leads to engineering ,construction, and architecture 3d integrated software during preconstruction modeling.Make the real time 3d modeling.It is the 3d design review package of Microsoft windows.One of the product of Autodesk.
Official website https://www.autodesk.com/