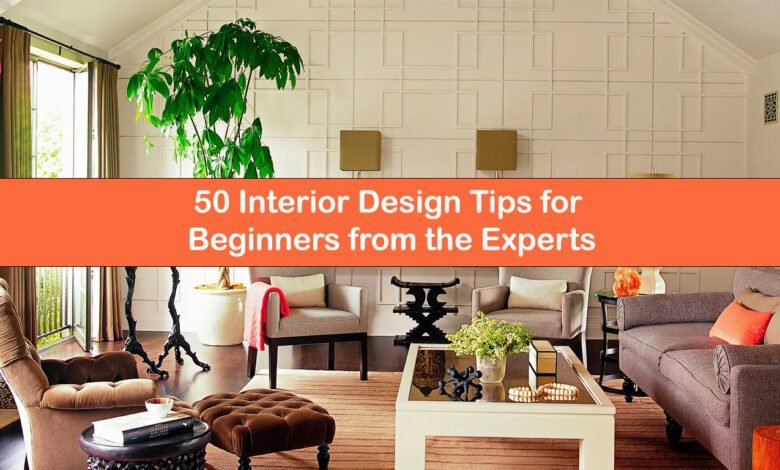 50 Interior Design Tips for Beginners from the Experts
1. Follow the current trends in changeable ways. You can add some accessories such as pillows, rugs, and lamps. This will make your home look as if it has changed with current trends. This method is budget friendly and enables you to stay up-to-date easily.
2. Add some color to the stair risers of your staircase to liven it up. Choose a color that is contemporary to your walls or even cover them with an exciting wall covering. You can also paint them in an ombre pattern with a color from your home's story, if you are adventurous. This change is small but brings out a large impact.
3. For a small space, dominate white. White is a color that, even when used in small spaces, tends to make the space larger. This is your best option when painting a small room.
4. Remember your dining chairs. You can add pillows on your dining chairs,which are an easy way to make your dining more intimate. You can even go to the extent of replacing the chairs with pillows that are designed especially for that in the market today.
5. Don't waste time hunting for vintage cabinets. Instead of looking for old cabinets, which may be hard to find and expensive, to give your home a classic feel, build your own by using old glass doors and windows in your home.
6. To give personality to your rooms, use area rugs. On hard surfaces, you can make use of rugs to reduce echo and provide comfort. The area rug defines the room with pattern, texture, and color beautifully.
7. Use a vintage look by applying a vintage frame on a standard mirror. Use 1 by 3 inch pine strips, paint them same color as your walls and soften them at the edges. You can also add depth and interest to a dull wall by placing rectangular boards around fixtures and mirrors. The look is subtle as well as effective.
8. Use pillows that contrast in color on the back and front. This can be used to bring a small change to appearance as you flip them from time to time.
9. Add a dramatically patterned chair. You can add this chair to your living room or a pair in your dining room, which will capture the eye.
10. Establish the right focal point. This is one of the key principles that can change the appearance of your room greatly. The most visible focal points are in built features of the room/house such as the fireplace or window. If your room does not have one, you can create it yourself with use of a unique furniture piece or a good piece of artwork.
50 Interior Design Tips for Beginners from the Experts
11. Every room needs three things. There are some things that you should not miss in each room to enhance appearance such as candles, flowers, and mirrors.
12. Use nice plates and platters to enhance color in your rooms. When you hang small groupings of different plate sizes on your wall or even place them on bookshelves or plate stands, a beautiful pattern is formed, bringing color to your room. These plates can be easily found in flea markets and are a cheap way to increase interest to a space.
13. Think of waterfalls when you are working with accessories. As you accessorize your house, start with the biggest things at the back and flow down from there. Nothing gets lost that way.
14. Make use of crisp linens and fresh flowers to also enhance color in your space/room.
15. Remember to layer light. There are three types of lighting you can use: task, ambient, and accent. All these types of lighting should be present for the best effect in your rooms.
16. Start redesigning your room with something you really love. This may be a painting, a rug, or anything. This way, you can be able to set the color and style and have a baseline of the design to start re-decorating.
17. Keep in mind that collaborative design brings out the best. If you are not good at designing, you can get in contact with a designer before you consult a contractor.
18. The art of lighting correctly brings the room to life. Correct lighting also makes your room/space sparkle. The correct light must be placed at the right angle and distance, according to height and size of the room and how art is placed on the walls.
19. Don't forget the guest bathroom. Hang important art in there. It will capture the attention of your guests. Don't forget to put everything that the guest might need in the bathroom.
20. Make use of reflective materials. Use objects that reflect light such as chandeliers, mirrors, and other elements made of glass that have qualities that open up a room, bringing a touch of glamour.
50 Interior Design Tips for Beginners from the Experts
21. If you are not sure what end table or sofa size to purchase, lay big bags on the floor in the room you want to set. This way, you will be able to see what works best in terms of placement and size. It helps you to visualize the place before purchasing an item that is either too small or too big.
22. Raise your eyes. Before you hang wallpaper on the wall, try different points of the rooms, even on the ceiling as long as it is not heavy. If you use regular wallpapers that have organic texture or little shimmer, you will give a boring ceiling an elegant designer look.
23. Buy a great sofa. Buy a set that will suit your needs and bring easiness to the room.
24. Choose the right kind of chairs. It is recommended that you try to look for more comfortable, stylish, and timeless chairs than the common French bergères.
25. Don't choose pieces that are too small for your room. Look for elements that will suit the size of your room. Don't go for big items when your room is small or vice versa to avoid imbalance in sections.
26. Try original artwork. Some people tend to fear looking for original artwork because they have a mentality that it is expensive. Students and local artists provide artwork at cheaper prices. You can even create some artwork yourself if you have an artistic side.
27. Try looking for vintage items from thrift stores. This will give your home a unique look.
28. Make use of flowers. You should try to put something organic in every room in your house. Use unique containers for preserved or real flowers such as teapots, wine bottles, and even milk jugs. Flowers bring a colorful look to your house.
29. Make your bedroom your sanctuary. The first thing that obviously comes
to your mind is to get the computer and TV out the bedroom. Your bedroom is the only place you can escape from all bad news and relax. So as you redesign it, ensure you put in everything that will help you relax during stressful times.
30. Consult an expert interior designer. Just as you would go for a pedicure or a manicure, hire an interior designer for a one-hour consultation. It will be money well spent on your home improvement in terms of interior design.
31. Create playful shadows and ambience effect on walls. This can be done by placing an up light in a corner just beneath a banana palm or fiddle-leaf fig.
32. Backlighting for glass sinks. Adding some back light to sinks made of glass results in a beautiful glow as well as creating a night light for your bathroom.
33. Hang mirrors in correct positions. Before you hang a mirror, look around the room. A mirror can reflect things on the opposite side that may be rather embarrassing such as a hole in the wall or even dirty dishes from the position you put it.
34. Drapery. Always hang it at least eight to ten inches over the window molding. This makes the window look generally larger and taller. The same effect is brought with a shaped upholstered cornice.
35. Reprint some of the colored family photos in black-and-white. This is done to group them and make them uniform.Interior Design Tips
36. Tight spaces. If you have a small space in your room that needs to be filled but it isn't big enough to fit any furniture, you can place a mirror on the wall in that area. This makes the space nearly invisible.
37. Put a lamp on the countertop. Put it preferably in the bathroom for a feeling of intimacy and warmth.
38. Get new lampshades. To make a traditional lamp a little more modern,use a drum shade.
39. Use towels with monograms for bathrooms. This makes them look a little bit custom made. You can also add colorful soaps, lotions, and guest napkins that will enhance the visual appearance of the room.
 40. Painting a room. For best results, when painting a room, you should use a "blush color" on the trim, ceiling, and doors. A blush color is a mixture of white and a touch of the color of your wall. The resulting effect pulls the room together.Interior Design Tips
41. Make a decorative pillow. You can add some color to the room by using unexpected found materials.
42. As you design the room, consider the focal point, function, and flow. First,figure out what you want to use the room for. Give purpose to the space then later create a focal point. Last, create a flow, ensuring you arrange the large elements in your room so they face your focal point.
43. Get the height right. Hang a chandelier in your dining room approximately 36 inches above the table. For artwork, you should hang them between 60 to 65 inches from the centre to the floor. It doesn't matter how high your ceiling is.
44. Use current color trends. Currently, there's a shift from brown color shades to more grayish and blue shades. This color trend is approximated to go on for the next 10 years or so. If you are redecorating now, this would be the best color scheme for you to use to avoid an outdated look in the five years.
45. Make paint the last of your choices to make. There are many hundreds of thousands of paint colors you can choose from. This will obviously make it a tough decision to make. Start your redecoration project with processes that don't require you to make many choices such as cabinets, upholstery fabrics,and rugs, then move onto the walls. This will lay the foundation to the color that will be a more appropriate paint color to be used on the house.
46. Working with accent colors. Add them to the room in multiples of three (doesn't have to be of the same scale). For example, you can add an orange pillow, orange painting, and a small orange tray to a living room.
 47. The most inexpensive and quickest way to change a look is to fit new hardware on kitchen and bathroom cabinets.Interior Design Tips
48. Reupholstering just a single piece. This can change the appearance of your room to a great extent.
49. Improper use of family photos. Family photos should not be taken as art and hung everywhere in the house, especially in prominent spots or in public areas. Opt to put them in more private places instead, where only the family can appreciate them. You can occasionally frame a group of photos and place them on top of a piano or table.
50. Create a sense of formality. You can do this by angling a few of your furniture pieces or even add artwork, mirrors or even accessories. This brings out the personality of the room.Interior Design Tips