Field Testing
How to Check in Bricks work in Building Construction?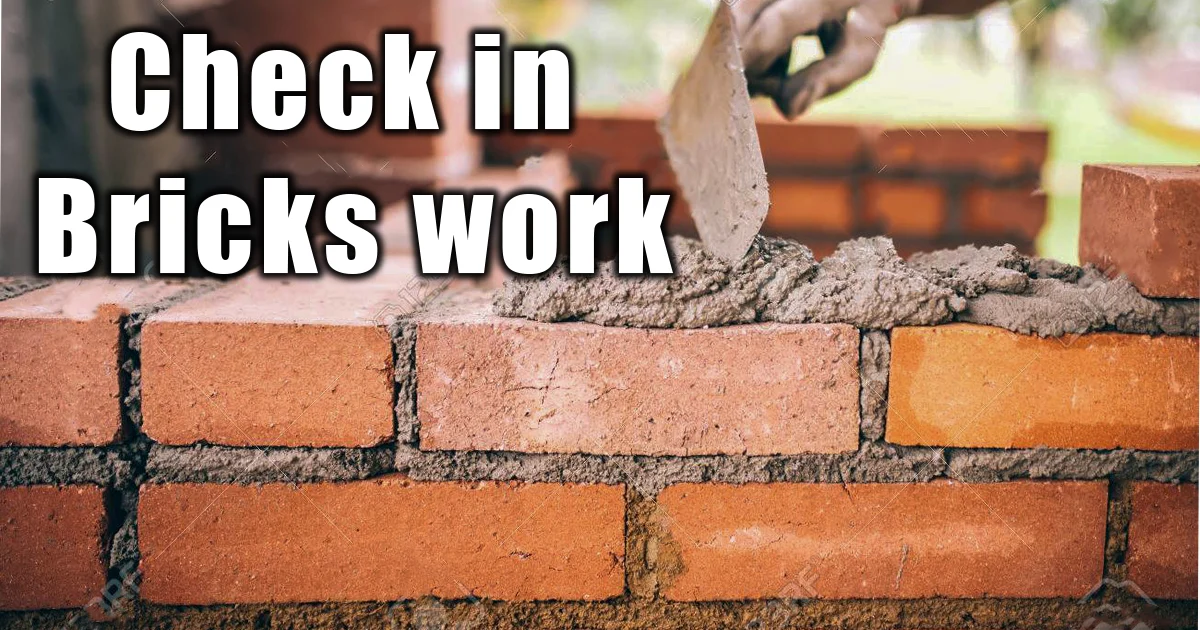 How to Check in Bricks work in Building Construction?
What to Check in Bricks work?
All bricks shall be thoroughly soaked in clean water for at least 4 hours in tank of sufficient size immediately before use. Soakage of bricks shall not be done for mud mortar masonry. The soaked bricks shall be stacked on wooden planks to avoid earth being smeared on them. The best shaped and most uniform colour bricks shall be picked out and used for face work.
What to see in Brick Work
Thickness of joint in brick masonry should not exceed 1 cm. i.e.,thickness of joints shall not exceed 6 mm in class A brickwork and 10mm in class B brick work. Where plastering or pointing is not required to be done, the joints shall be struck flush and finished at the time of laying.
Brick work should be taken up in layers not exceeding one metre Height at a time.
Check that the brickwork is in plumb and brick courses are laid truly horizontal and all vertical joints shall be laid truly vertical
Vertical joints in alternate courses shall come directly over one another. The bricks shall be thoroughly bedded and flushed with mortar on all faces except those exposed
Bricks shall be laid with frogs upwards and set home by gentle tapping with handle of the trowel or wooden hammer
All masonry work except masonry in mud mortar shall be kept constantly moist on all the faces for a period of at least seven days
Check bonding of cross wall with long walls
The slenderness ratio should be checked i.e., Effective height or length of wall divided by thickness should be below 24 for2 storeys and 18 for more than two storeys in Cement Mortar 1:6.
The holes left in the masonry for scaffolding shall be filled and made good.
Half cut bricks shall not be allowed except at joints
Ebook to Read Computational Structural Analysis and Finite Element Methods
See More Calculation of Brick Work Quantity
Prior to laying of Bricks on Foundation
The foundation slab shall be hacked, swept clean and wetted prior to start of Work.
Before laying first course of bricks on prepared foundation, mortar of 12mm thick shall be laid
Curing of Brick Work
The curing shall be carried outfor a minimum period of seven days
During curing period, the brickwork shall be protected from damage
The green mortar should not be disturbed during curing
Normal Defects Noticed in Brick Work
No tests were carried out to find out the quality
The bricks were not soaked in water properly. Water was only sprinkled on the stack of bricks
Joints were not properly filled with mortar thereby leaving voids
Uneven brick layers A
Poor quality mortar being used in joints