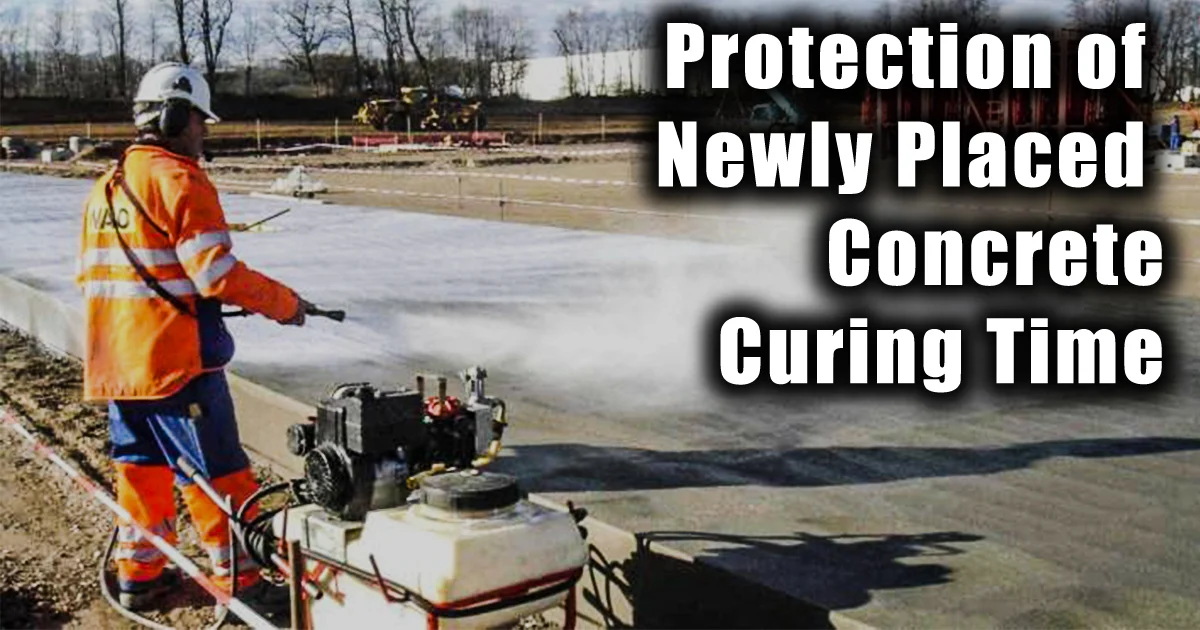 Protection of Newly Placed Concrete Curing Time
Newly placed Concrete Curing Time in the initial stages of setting(up to 12-24 hrs.) should be protected by approved means from frost, mist-, rain and drying winds. Exposed faces of concrete shall_be kept wet by approved means for seven days after placing or for three days if rapid hardening cement is used. The concrete shall be covered with a layer of gunny bags, canvas, hessea or similar absorbent materials and kept constantly wet for seven days from the date of placing of concrete(More details IS-456-2000).
In the later stages of hardening(after 12-24 hrs.) concrete can be cured by ponding and flooding with water for keeping it constantly wet or by applying some curing compound or water proofing coating(which won't allow concrete water to go out).
Rate of hardening of concrete can be increased i.e. concrete curing time can be reduced by
Hot water curing
Steam curing
Using accelerator admixture
By steam curing at 80 degree centigrade, 70% of the strength is reached in 4-5 hours. While using Portland Pozzolana Cement(PPC) instead of OPC, curing period should be increased to 20 days for concrete work. PPC attains desired strength in 35 days as against 28 days in case of OPC.
Caution
Allowing evaporation of water from concrete while hardening does the following harm
a) Loss of strength of concrete(due to incomplete hydration of concrete)
b) Shrinkage cracks(because concrete shrinks due to removal of water)
c) lncrease in voids
Ideal temperature for concrete pouring is 21 degree Centigrade. In cold weather, concreting should be abandoned below 4.5 degree centigrade because water can freeze and disintegrate concrete.
Minimum Period before Striking Form Work
1.Props to Slabs
Spanning up to 4.5 M 7 Days
Spanning over 4.5 M 14 Days
2. Props to beams and arches
Spanning up to 6 M 14 Days
Spanning over 6 M 21 Days
See More Various Type of Test on Fresh Concrete
Ebook to Read Concrete Building Scheme Design Manual