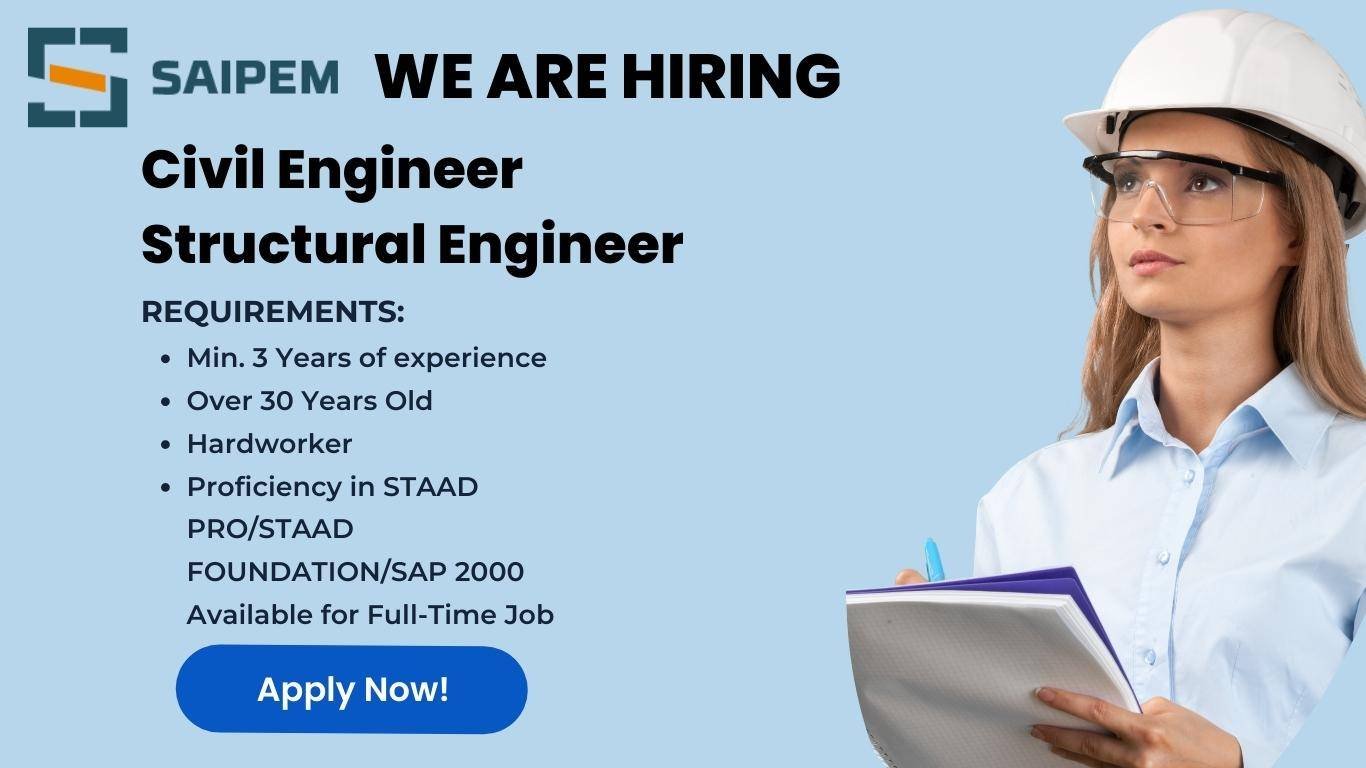 Job Opening for Civil and Structural Engineer in Chennai
WE ARE HIRING Join our team
Company: SAIPEM
SAIPEM, an advanced technological and engineering platform for the design, construction and operation of complex, safe and sustainable infrastructures and plants.
WHY WORK WITH US?
Exposure to varied product lines
Robust on-the-job training and learning experience
Tremendous opportunity for professional growth
Working for Saipem means being a part of one of the world's leading energy companies. Pretty much nothing remains to be underestimated in our business: In challenging environments, we produce extraordinary projects. Take the opportunity!
Our employees can work on a variety of challenging projects throughout their careers, integrating multicultural and multigenerational teams, and only one thing matters: working together to complete a task.
We are committed to creating a workplace where diversity and inclusion are prioritized and everyone contributes to the success of the group. We prioritize care over safety, knowledge sharing, and innovation wherever we go.
JOB LOCATION – CHENNAI
EXPERIENCE – 8-15 YEARS
PROCESS – 411002
Basic Engineering / Front End Engineering Design / EPC Projects of large scale Oil & Gas, LNG, Refinery, Petrochemical, Fertilizer, Utilities and Offsite Facilities. Process Design, Process Simulation, PFD's, P&ID's, Hydraulic calculations, Equipment sizing, Relief load estimation, Depressurization calculations, Instrument Process Data Sheets, etc. with hands on experience in software such as HYSYS, PRO II, UniSim, Pipenet, Flarenet, etc.
Civil and Structural Engineer – 423742
Onshore structural Analysis and Design – Proficiency in STAAD PRO/STAAD CONNECT/SAP 2000 (OPTIONAL), Analysis / design of onshore structures – Pipe Racks, Technological Structures including connection design. Onshore Modularization concepts & Design (In Service & Pre Service).
Onshore Civil- Structural/ Foundation/UG/SUMPS – concepts and design- Proficiency in STAAD PRO/STAAD FOUNDATION/SAP 2000 (optional)/MAT3D/FDN 3D software.
FEM ANALYSIS & DESIGN – Proficiency in ANSYS/ABACUS.
Proficiency in International codes – American/British/Euro Codes & other international codes.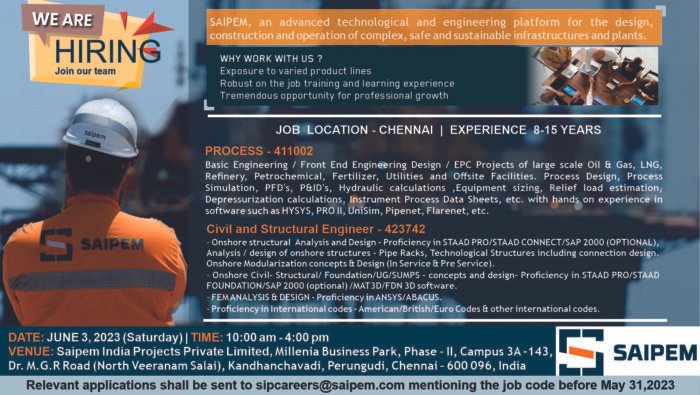 DATE: JUNE 3, 2023 (Saturday)
TIME: 10:00 am – 4:00 pm
Job Civil Engineer Chennai
VENUE: Saipem India Projects Private Limited, Millenia Business Park, Phase – II, Campus 3A-143, Dr. M.G.R Road (North Veeranam Salai), Kandhanchavadi, Perungudi, Chennai – 600 096, India
Relevant applications shall be sent to sipcareers@saipem.com mentioning the job code before May 31,2023