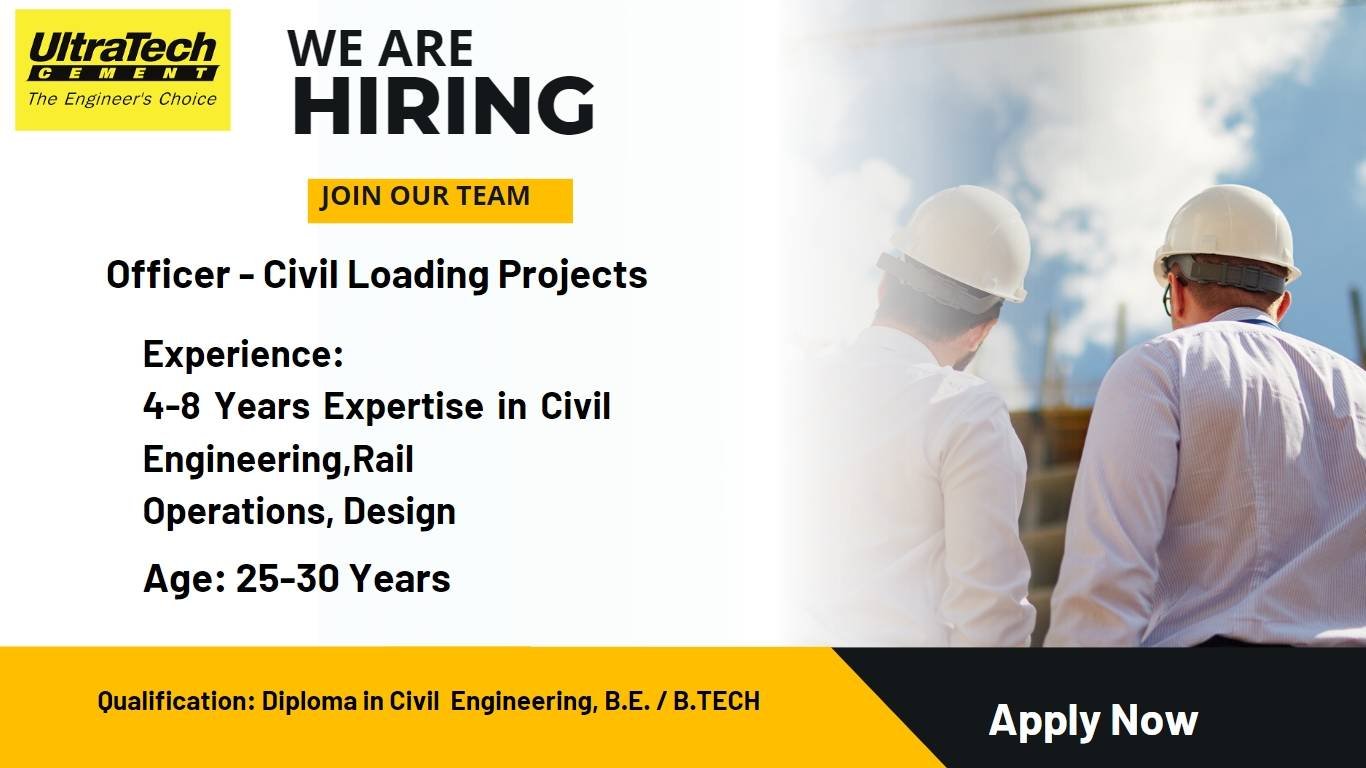 Job Opening in UltraTech Cement Limited
WE'RE HIRING Come Build Your Career with Us
The flagship cement company of the Aditya Birla Group is UltraTech Cement Limited. UltraTech is India's largest manufacturer of white cement, ready-mix concrete (RMC), and grey cement. The company is a building solutions powerhouse with a 7.1 billion USD market capitalization. With the exception of China, it is the third largest cement producer in the world. Outside of China, UltraTech is the only cement company with a cement manufacturing capacity of more than 100 MTPA in a single nation. The United Arab Emirates, Bahrain, Sri Lanka, and India are all places where the company conducts business.
What Drives Us
At UltraTech, we take pride in being the largest manufacturer of Cement & Ready-Mix Concrete (RMC) in India and one of the leading cement producers globally. As a brand, we embody 'strength', 'reliability', and 'innovation' to create homes, buildings, and structures that define the new India.
At the heart of our success are our highly motivated and dynamic workforce backed by a culture of collaboration & innovation. We believe in providing a world of opportunities to our employees thus enabling their learning in an environment of continuous recognition and celebration. We value diversity of thoughts, capabilities, and skills.
Job Opening in UltraTech Cement
Job Position: Officer – Civil Loading Projects
Experience: 4-8 Years of Expertise in Civil Engineering, Rail Operations, Design
Education Qualification: Diploma in Civil Engineering, B.E. / B.TECH
Age: 25-30 Years
Last Date of Application: March 27, 2023
Company: ADITYA BIRLA UltraTech
Location: Maihar Cement Works, Madhya Pradesh Famous for White Tiger Safari
You will be responsible for
Overall responsible for the timely commissioning of the project
Cost control and budgetary control
Managing external stakeholders
Ensure the safety of the people at the project site
Compliance and process adherence
People Management
Govt authority and obtain timely clearances
Project quality monitoring
Timely ordering of materials
Handling the contract labour and making sure to maintain proper execution of the project on the ground level