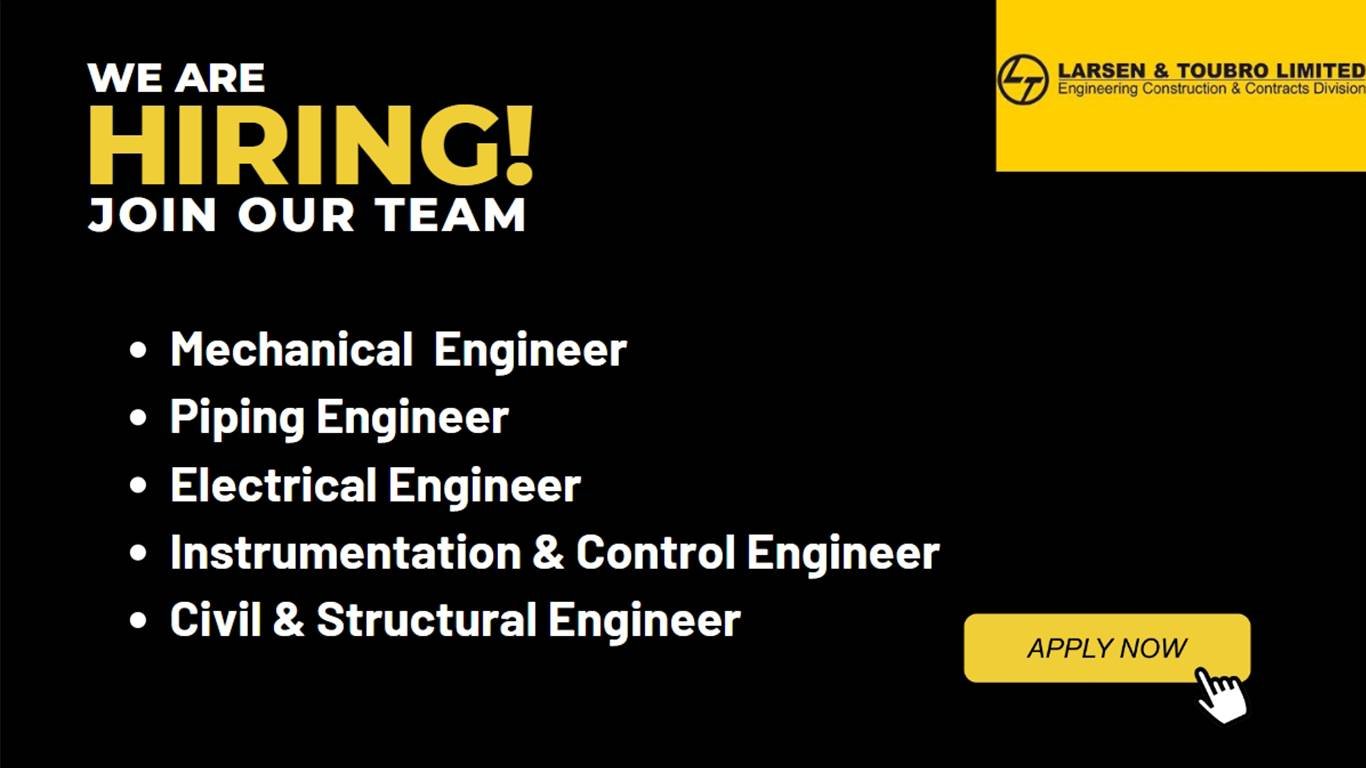 L&T Construction Hiring for Civil & Structural and Electrical Engineers
Larsen and Toubro Ltd, formally known as L&T, is an Indian worldwide aggregate organization, with financial matters in designing, development, fabricating, innovation, data innovation and monetary administrations, settled in Mumbai. The business is ranked among the top five construction firms worldwide.
Over the past seven decades, L&T Construction, India's largest construction company and one of the world's top 30 contractors, has transformed cityscapes and landscapes with massive structures. The capabilities of the company include civil, mechanical, electrical, and instrumentation engineering, as well as services for infrastructure projects and all core sector industries.
L&T's reputation for excellence in construction can be seen on a number of the nation's most prized landmarks, including airports, industrial projects, flyovers, viaducts, water infrastructure projects, and power infrastructure projects. Thanks to L&T Construction, more and more structures outside of India are now standing tall today.
L&T Construction Minerals & Metals
L&T's Minerals & Metals (M&M) business is the market leader in Engineering, Procurement & Construction of Metallurgical Projects in India.
A part of L&T Construction, the M&M business' expertise lies in the engineering, procurement, supply, construction, erection, and commissioning of projects in Iron, Steel, Aluminium, Gold, Copper, Zinc, Lead and Mineral beneficiation plants.
We invite applications from Design & Process Engineering professionals for positions in Kolkata and Vadodara.
CURRENT OPENINGS
Mechanical Rotating Equipment – Lead & Engineer (Job Code # LNT/MREE/689590)
Mechanical Stationary Equipment – Lead & Engineer (Job Code # LNT/MSEE/689616)
Piping – Lead & Engineer (Job Code # LNT/PE/689926)
Electrical – Lead & Engineer (Job Code # LNT/EDE/626733)
Instrumentation & Control – Lead & Engineer (Job Code # LNT/I-CE/689939)
Civil & Structural – Lead & Engineer (Job Code # LNT/C-SDE/624069)
Minimum Educational Qualification
B.E./B.Tech./M.E./ M.Tech. from recognised Institutes / Universities.
Candidates can apply with the specific Job Code at
Experience
Lead – 15 to 20 years Engineer – 10 to 15 years
Last Date for Applications 10th May, 2023
Caution: The L&T Group of Companies does not charge candidates any fees at any stage of recruitment. Please report any such request at infodesk@Larsentoubro.com