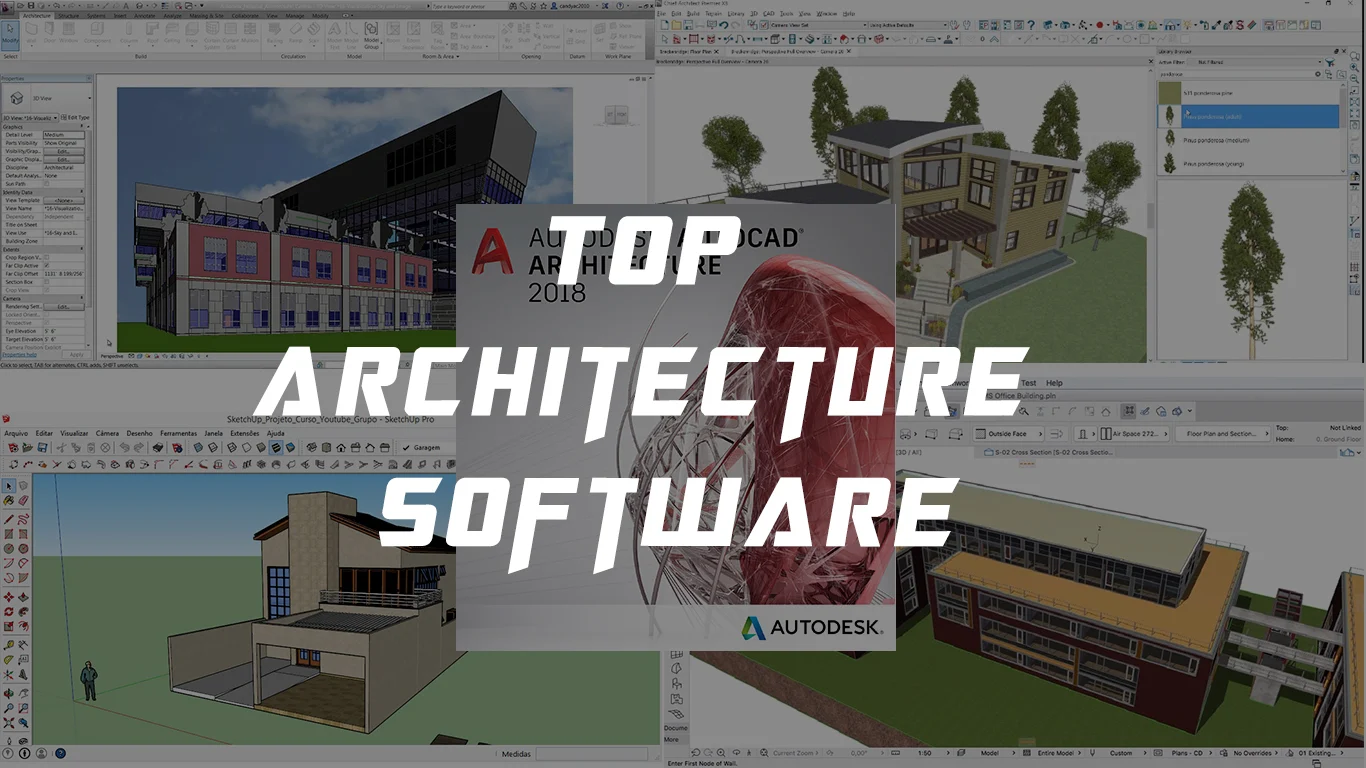 Top Architecture Software
Top Architecture Software Autodesk Revit,ArchiCAD,AutoCAD Architecture,SketchUp,Chief Architect
Here list out top Architecture Software details given below:
Autodesk Revit
Software product Autodesk Revit , based on building information modeling (BIM), for the design, construction and operation management of high-quality, energy-efficient buildings. Autodesk Revit – a complete solution that combines capabilities of architectural design, design of engineering systems and structures, as well as the simulation of construction (Autodesk Revit Architecture, Autodesk Revit MEP and Autodesk Revit Structure).
Parametric modeling
Parametric components are the basis for designing building components in Revit. Express design intent for elementary parts as well as detailed assemblies.
Collaborate in real time
Worksharing enables multiple team members to work on the same project at the same time on a central shared model.
Stay coordinated
With Bidirectional Associativity, a change anywhere is a change everywhere. Revit model information is automatically updated throughout the model.
ArchiCAD
ArchiCAD gives users the ability to create great architecture and increase productivity. From day one, ArchiCAD has been designed  by architects  for architects, and over the years it has gradually become more and more refined to allow its users to better.
ArchiCAD offers a different approach to your workflow process, which gives you more control over your design, while maintaining accuracy and efficiency in documentation. While you raise walls, lay floors, add doors and windows, build stairs and construct roofs this Building Information Authoring Tool creates a central database of 3D model data. From this you can extract all the information needed to completely describe your design – complete plans, sections and elevations, architectural and construction details, Bills of Quantities window/door/finish schedules, renderings, animations and virtual reality scenes. That means while you're designing, ArchiCAD is creating all the project documentation so there's little repetitive and tedious drafting work. And unlike designing in 2D software, the Virtual Building approach also means that you can make changes at any time maintaining the integrity of your documents, without risking costly errors or costi.
AutoCAD Architecture

AutoCAD Architecture is the industry-leading software for architects issued by Autodesk as an initiative to provide engineers with a streamlined package of tools that encourage daring designs and maximize productivity throughout large projects.
It was born out of Autodesk's endeavor to divide the power of AutoCAD amongst various industries. Just like AutoCAD Electrical targets electrical engineering and AutoCAD Mechanical is oriented to machinery design, the Architecture version is aimed at architectural work.Its sports the same graphical approach as any other AutoCAD product, boasting a professional and organized appearance that allows you to experience with its features at your own pace.
The menus embedded inside its interface are extremely rich and will take a while to explore, although we trust that professional architects have developed a sense for this type of software approach.
With AutoCAD Architecture, you will be able to create, edit and observe your designs, as well as to annotate, export and print them easily. You can populate your projects with a wide array of objects, including walls, doors, windows and other such elements that mimic real-world behavior.
Sections and elevations can be directly generated from your floor plan, with dimensioning standards that can be personalized. The integrated rendering engine facilitates the creation of 3D models, while the renovation feature speeds up the evolution of an architectural renovation.
SketchUp
SketchUp is useful from the earliest stages of design to the end of construction. Programming, diagramming, design development, detailing, documentation, RFIs—wherever you need drawings, you need SketchUp Pro.

Produce scaled, accurate drawings
SketchUp isn't just for 3D models. Draw plans, elevations, details, title blocks and a lot more with LayOut. When your model changes, so does your document. Simple.
Generate presentation documents
With LayOut, you're equipped for page design, drafting, vector illustration and slide presentations: everything you need to explain everything.
Create compelling walkthroughs
Use SketchUp Pro to turn your models into animated walkthroughs and flyovers that explain every detail.
Chief Architect
Chief Architect is 3D architectural software for residential and light commercial design. Discover why millions of people use Chief Architect as the home design software product of choice for 2D and 3D design.
Use powerful building and drafting tools to quickly create plans according to standard building practices and make the design process efficient and productive. Automatic and Manual Building tools allow you to create a variety of Roof styles, Stairs, Framing – both stick and truss, Schedules and Materials Lists for Cut, Buy and Estimating, Dimensioning, Cross-Sections, Elevations and CAD tools. More on Building Design features.
Top Architecture Software above mostly used by Architect.
Read More Most Wanted Software Used in Civil Engineering