Wanted for Civil Engineers in Rajapushpa Properties Pvt. Ltd
Rajapushpa Properties Pvt. Ltd
This is the only official website of Rajapushpa Properties. Users are cautioned and cautioned not to rely on information on other websites that is similar to our official website and\/or contains our logo\/brand name or information about our company or its projects. You will be advised. This Website may contain other proprietary notices and copyright information, the terms of which must be observed and followed. Information may be changed or updated without notice.
We may make changes and\/or improvements to the products and programs described in this information at any time without notice. We update our website in accordance with the prevailing laws of Real Estate Regulation and Development Act, 2016 and the regulations made under (RERA). Please read the following carefully and note that this disclaimer applies to the entire website. By continuing to access this website, you acknowledge that the information on this website, such as images, details, brochures and all other marketing materials, is for informational purposes only.
All information is subject to change and you are cautioned not to make decisions based on any or all of the information provided on this website. Please do not rely on this information when making reservations purchases on our projects as all information on this website is subject to change. All information provided herein does not constitute an advertisement, marketing, reservation, sale, offer to sell or solicitation of purchase of any project of Rajapushpa Properties Pvt. Dahl RPPL Co., Ltd. is not responsible for the consequences of actions taken solely in reliance on the material information displayed on this website.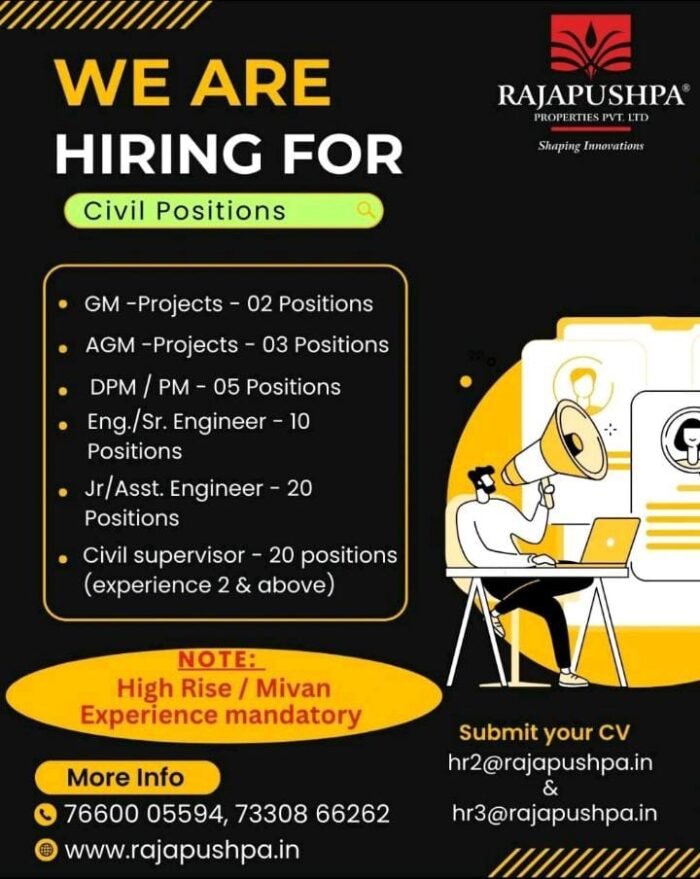 Rajapushpa Properties Pvt. Ltd
We are Hiring For Civil Positions
Civil Engineers Rajapushpa Properties
Shaping Innovations
GM -Projects – 02 Positions
AGM -Projects – 03 Positions
DPM/PM – 05 Positions
Eng./Sr. Engineer – 10 Positions
Jr/Asst. Engineer – 20
Positions
Civil supervisor – 20 positions (experience 2 & above)
NOTE:
High Rise / Mivan Experience mandatory
More Info
76600 05594, 73308 66262
Submit your CV to hr2@rajapushpa.in & hr3@rajapushpa.in