Checklist
Checklist for External Plastering Work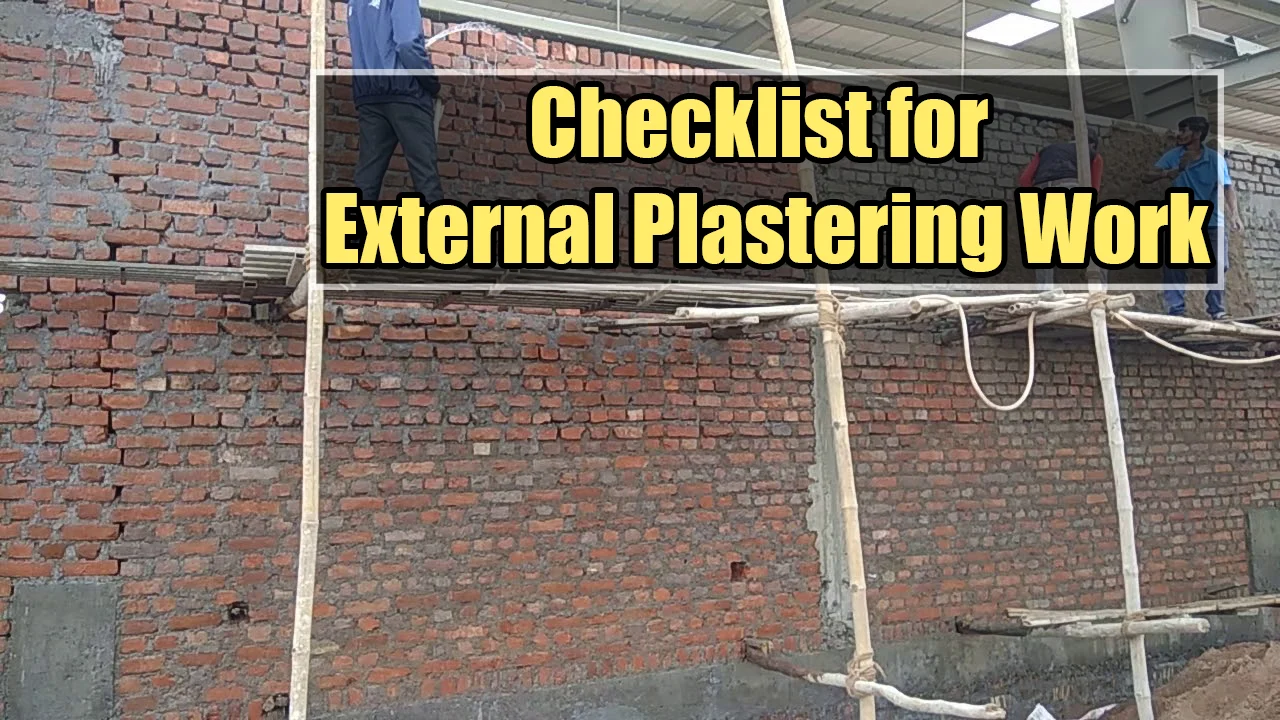 Checklist for External Plastering Work
The following list of points to be follow
ed in construction work for External Plastering Work given below
Ensure that the Block or Brick masonry and concrete surfaces are found clean, free from dust, loose materials, oil, grease, mortar droppings, nails, metal strips, wooden pieces, binding wire etc.
Erect a double scaffolding without making a hole in the wall (Or erect a single standing scaffolding by taking support of wall as directed by the higher authority).
Fill the external gaps on the side in masonry & beam or column joints with rich mortar and complete the socketing work.
Fix 6" wide chicken mesh on the joint of RCC & Masonry wall (Nailing of chicken mesh should be at a distance of 230mm interval).
Take the plumb or line from top to bottom at all the edges to ensure the accuracy and keep the thickness of the single coat plaster at minimum 10-12mm uniformly.
If a beam or column is bulged out, then chiseling is to be done with a small concrete breaker or a sharp chisel and hammer, only after the RCC designer permits it.
Check all the elevational features and window openings as per the architectural drawings.
Ensure that masonry work is complete in all respect and the surface to be plastered should be dampened a day before plastering.
The above process should begin at least two days prior to the plastering so that it may gain strength.
Sand sieved properly and silt content within permissible limits i.e., less than 8%. If silt content is more than 8% then wash the sand before use.
Take sand proportion 1:5 with machine mix and the mixed mortar should be placed within half an hour. Add waterproofing chemicals per bag into the mix as per the recommendations.
After the preparatory measures, start plastering, ensure that no uneven surface is observed.
Roughen the surface with wires for better bonding with the second coat.
Ensure that for all chajjah, projection should be finished with a protective drip mould (pani patti) at the bottom of the chajjah.
Curing of single coat should be carried out then wait for 5 days and apply the second coat plaster with punch finish, thickness should not be less than 6mm & not more than 10mm.
Curing of double coat plaster shall be minimum of 7 days.
Checklist for External Plastering Work carefully followed in construction site.
Collection of Civil Engineering Ebook Click Here
Checklist for Building Construction Work Click Here