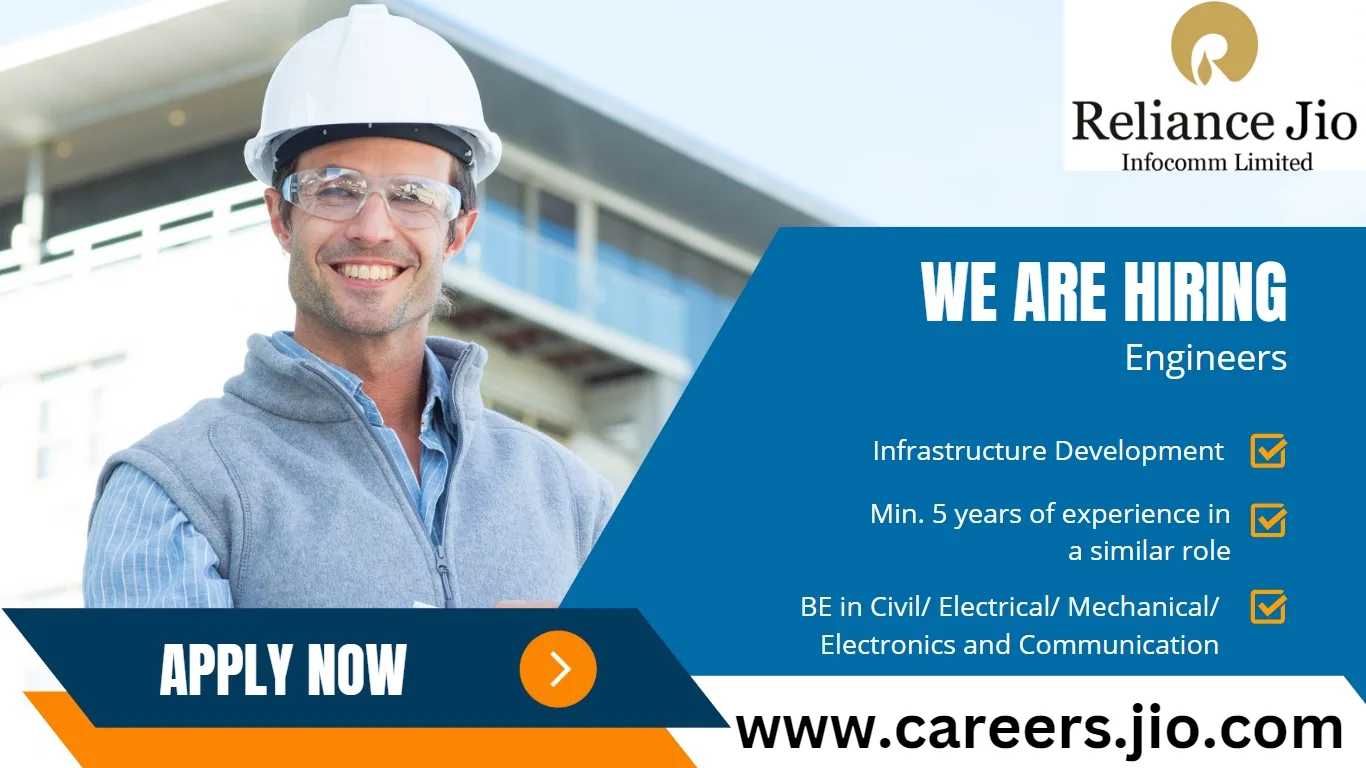 Job Opening for Civil Engineer in Reliance Jio Infocomm Limited
Infrastructure development refers to the construction and maintenance of the basic facilities, services, and structures needed for a society to function. This includes things like roads, bridges, public transportation, airports, ports, water supply systems, sewage treatment plants, and power generation and distribution systems. Infrastructure development is an important aspect of economic growth and can also have a positive impact on social and environmental outcomes.
Location: Mumbai, Maharashtra
Job Responsibilities:
1. Manage the entire Intracity Construction business
2. Provide full-time support to the team for mobilizing the resources
3. Conduct regular reviews and take corrective actions
4. Creating better synergy within the regions for effective project management
5. Understanding the issues proactively and coordinating for resolution
6. Escalate queries to concerned stakeholders for timely resolution
Education Requirement: BE in Civil/ Electrical/ Mechanical/ Electronics and Communication
Experience Requirement: 15 – 20 years
Skills & Competencies:
1. Knowledge of Intracity Construction
2. Project management skills
3. Leadership skills
4. Team management skills
5. Planning skills
6. Innovation and Creativity
7. Commercial Acumen
More Job Opening for Engineer Click Here
About:
Jio, also known as Reliance Jio, is a telecommunications company based in India. They offer a wide range of career opportunities in areas such as customer service, sales, marketing, engineering, and technology. Some specific roles that may be available include customer service representatives, sales executives, network engineers, and data analysts.
Join Telegram Channel Click Here
To apply for a job at Jio, you can visit the career section of their website, where you can search and apply for open positions. Alternatively, you can also check job portals like Linkedin, Indeed, Naukri and Glassdoor, where Jio post its open positions.
You may be required to submit a resume and cover letter, and possibly complete an online application and/or take a skills assessment. Depending on the role, you may also be required to participate in an interview.