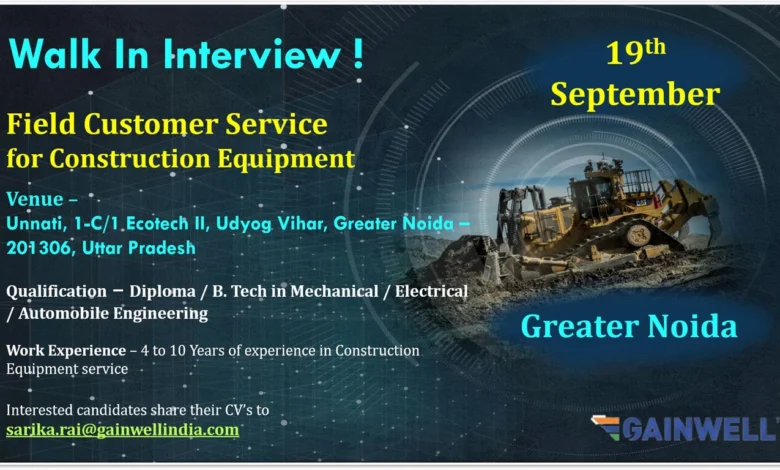 Walk-In-Interview for Field Service Engineer in Gainwell (GCPL)
Through its team of devoted and engaged workers who are continually motivated by the ideals of the business, GCPL is committed to providing an excellent client experience. These principles serve as the bedrock upon which the GCPL organization's superstructure has been constructed. This core set of values—customer centricity, professional and interpersonal concern for employees, cooperation among GCPL citizens, entrepreneurial orientation among its members, and the display of excellence in all that it does—constantly propels GCPL toward market leaderships and a sustainable competitive advantage in this constantly changing business environment.
The GCPL has always been prepared to handle all of its problems because of the workers' unshakable dedication to upholding and living by the institution's ideals. As a heavy equipment dealer, we work to keep one step ahead of the competition by implementing a top-notch infrastructure system, opening the door to meeting the wide range of market demands.
Building nations has always been a part of our tradition. It gives us the motivation to create assets for our nation. The one constant focus of our attempts to make a difference has been the desire to create a better India. It realizes our goal of being environmentally conscious and prepared for the future.
Walk-In-Interview for Field Service Engineer in Gainwell (GCPL)
Job Position: Field Service Engineer – Construction Equipment
Date:19th September 2023
Time – 10 am – 4.30 pm
Venue:
Unnati,1-C/1 Ecotech 2,Udyog Vihar,
Greater Noida- 201306
Uttar Pradesh
Qualification:
Diploma/B.Tech in Mechanical/Electrical/Automobile Engineering
Work Experience:
4 to 10 Years of experience in Construction Equipment Service
Interested Candidates Sent updated CV's to sarika.rai@gainwellindia.com
For more Job Updates Click Here